Las Vegas Airport Sets Monthly Passenger Record, Spirit Agrees to JetBlue Merger

Harry Reid International, the primary Las Vegas airport that served nearly 40 million passengers last year, has set a new monthly passengers record.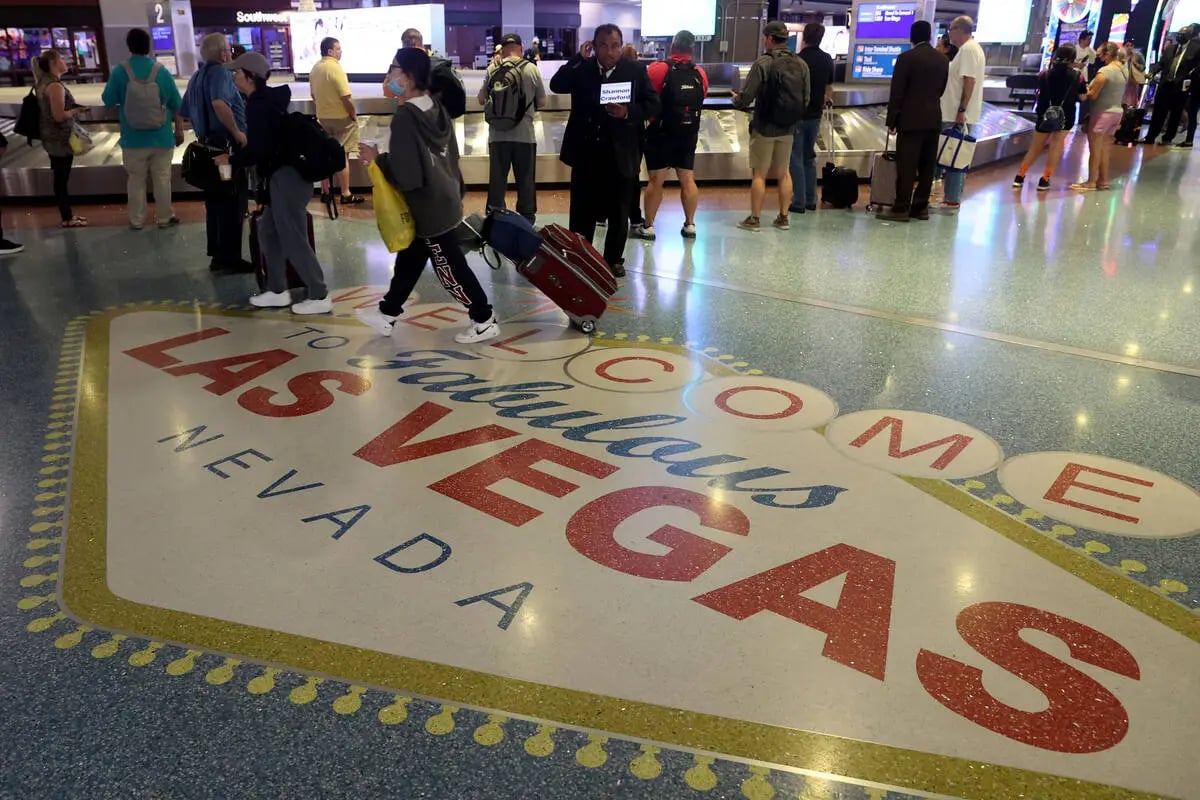 Las Vegas airport officials say its terminals facilitated more than 4.68 million travelers last month. That eclipses its previous all-time busiest month of 4.61 million passengers, set in October 2019. Harry Reid International is where most Las Vegas casino guests arrive via air.
We are continuing to see a strong domestic demand for Las Vegas, which has really been the story of our recovery," said airport spokesperson Joe Rajchel.
Domestic arrivals jumped more than 18% year-over-year to 4.35 million travelers. International traffic fared even better year-over-year, as foreign arrivals continue to rebound from the pandemic.
About 244,000 international passengers made their way through Harry Reid International last month — roughly 191,000 more than in June 2021 — a 357% spike.
Through the first half of 2022, Las Vegas airport traffic is up 52% from 2021. Nearly 24.3 million people this year have departed or arrived at the airport just east of the Strip's southern end.
More people typically means more gaming. The Nevada Gaming Control Board has not yet released its June casino report. But the state has eclipsed $1 billion in gross gaming revenue (GGR) in the previous 15 months.
May was the gaming industry's best May ever. GGR totaled $1.38 billion — 5.7% higher than May 2021.
Major Service Provider to Merge
Southwest Airlines transports more people into Southern Nevada than any other airliner. The low-cost carrier counted 1.64 million passengers in and/or out of Las Vegas last month — 18% higher than June 2021.
Spirit Airlines is Harry Reid's second-largest airliner. The ultra-low-cost carrier brought 656,0000 people through Las Vegas last month — up 58% year-over-year.
Frontier Airlines was next at 428,000 June passengers. Frontier and Spirit were planning to merge, but the deal fell apart this week.
Spirit, actively seeking a buyout, wasted no time finding a new suitor. Today, JetBlue announced it has agreed to acquire Spirit for $3.8 billion.
JetBlue is a minor service provider to Las Vegas. The airliner carried 74,517 passengers in and/or out of Las Vegas last month, ranking it ninth at the airport.
If the JetBlue-Spirit merger gains approvals from shareholders and antitrust regulators, the combined airline will become the fifth-largest commercial airliner in the nation.
International Remains Down
International traffic through Harry Reid International remains significantly below 2019 pre-pandemic levels, as COVID concerns limit the foreign leisure segment.
June's 244,000 international passenger count is 25% below June 2019, when a little more than 327,000 foreigners ventured into Southern Nevada. Through June 2022, international travel to the Las Vegas airport remains 44% suppressed.
Mexico and Canada are the two most important international feeder markets for Las Vegas. The countries accounted for over 63% of the foreign visitor load in 2019.
In June, the Biden administration did away with mandatory COVID-19 testing requirements for incoming international travelers. Before the lifting, all incoming travelers from foreign nations — including US citizens seeking to return home — had to present a negative coronavirus test to board an airplane destined for the states.
The post Las Vegas Airport Sets Monthly Passenger Record, Spirit Agrees to JetBlue Merger appeared first on Casino.org.
Source: Las Vegas Airport Sets Monthly Passenger Record, Spirit Agrees to JetBlue Merger